Good Morning Wishes Messages For Mother
Morning is the beautiful time when you start a new day of your life, in this morning time you can make it more special to wish your mother and let her know the importance her in your life. Here in this section we are sharing a collection of good morning wishes for mother, Good morning wishes for mother in law, Happy Morning wishes messages for mom,Good Morning Mom card message wordings.You can share or send these wishes messages to your mom and make her day more special as you are special in her life.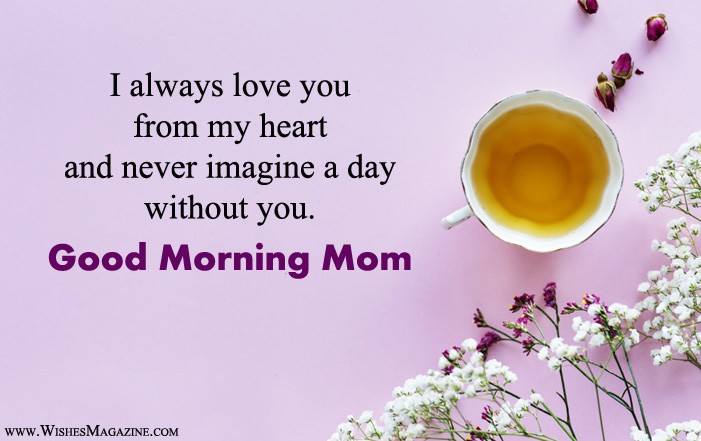 Good morning to the my sweet lovely mom!
I always feel very lucky to be your child.
I want you to be my mother in every life.
Every day of my life is start with your smile
and complete with your care and love.
I never imagine a day without see your smile,
love you forever.Good Morning Mom!
I feel god bless me with most special gift to be your child,
you are like the rays of sun that shine every day of my life.
Good Morning Mom!
You are always standing beside me; your love
and care always bless me with positive energy.
Have a good Morning Mom. I Love You Always!
Check More:
My every morning is so beautiful because your affection and care shine in it.
I wish my every morning will shine more every day.
Good Morning Mom.
Good Morning Messages For Mom
You are the inspiration of my life
that makes me to get up early
and do efforts to fulfill my dream.
I wish my morning greetings will also become
a reason for your wonderful day ahead.
Good Morning Dear Mommy!
Your lessons for life push me towards live life more happily and successful.
I'm such a lucky child to have a mother like you.
Good Morning Dear Mom!
A very happy and sweet good morning mom,
I wish you have an as wonderful day ahead as you are!
Every morning I feel so happy to open my eyes to hear your voice
which feels positive energy to face the world.
Good Morning Mom!
Check More:
Your directions and guides are the two keys
where I find myself peaceful and relaxed.
Good Morning Mother!
Have a happy and Cheerful morning;
your love and affection fill our world with happiness.
Good Morning Mom!
Dear Mom,Your place in my heart is very important to your affection;
love and Cheer towards life make me a perfect person in the life.
A Very Sweet Good Morning to My Mom!
I always love you from my heart and never imagine a day without you.
Good Morning my Mom!
I am thankful to God for giving you as my mother. I love you mom.
Good Morning!