Happy Journey Wishes & Latest Have a Safe Journey Messages For Greeting Card
Travelling means going from one place to other places. Travelling is a spice of life. It promotes the feeling of brotherhood as we are able to meet different people and make new friends.
Travelling brings us into contact with different people and different ways of life. We come across some point that people like to travel, whether it may be for work or go on a tour with friends, families and colleagues. By putting Happy Journey wishes anyone can show their feeling to him/her. When somebody wishes us for our journey, It makes us feel good and our journey actually gets better than we thought of. Your friends, families and relatives may even get closer with this to wish them happy journey. Here we have collection of happy journey wishes to wish family, friends, relative, to love one etc.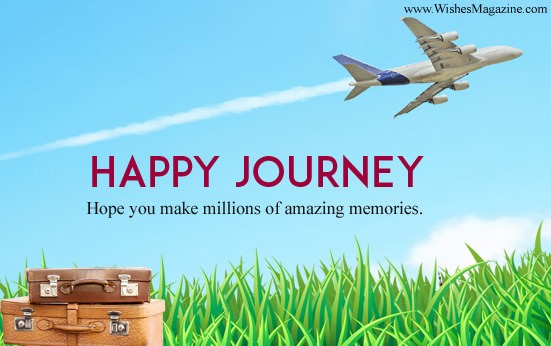 Happy Journey Wishes Message
Happy Journey. Reach home safely and come back soon
with more strength and happiness.
I will be waiting for you!
I hope to see you return healthy and happy.
Have a wonderful time and enjoy your trip.
Enjoy your time and please try to have a lot of fun.
I miss you, But Very Happy For You.
Happy Journey!
I wish you a superb trip that is filled with
lots of sweet memories.
Have a great time. Bon voyage!
May your journey be filled with joy,
Have a blast and enjoy your journey.
Safe Journey!
Thinking of you for every step you take,
Remembering your smiles for every move you make,
Wishing you a very happy journey.
I love you and missing you already!
Wishing a my dear friend, a safe journey!
May the joy of this journey bring sweet memories for
the rest of your life!
Safe Journey Wishes Sms For Friends And Family
Have a safe journey,
Enjoy the true taste of traveling,
Enjoy the real passion.
May your journey go well!
Enjoy your trip and come back safe!
I am very happy for you my dear,
Your dream was always discovering the world,
Make it unforgettable holiday.
Happy Journey!
Read More: Inspirational Travel Quotes
Goodbye to you and Welcome in advance.
Take good care of yourself
and enjoy the thrills of the moments.
See you when you are back.
Safe Journey!
I hope everything will go wonderful
on your trip. Bon voyage!
Safe journey cannot be bought, but it can be wished,
it can be in form of prayer for your loved one.
Happy Journey!
It was great to see you and catch up again.
Enjoy the rest of your journey. Have a Safe Journey!
Happy Trip Message For Greeting Card
May you have a fun
and memorable lifetime experience!
Happy Journey!
May only good things happen, in your trip.
Safe Journey!
Go in the way of safety, and be back in the way of love.
I believe this Journey will end in your favor.
Happy Journey Sweetheart!
May only good things happen on your trip.
Happy Journey!
I wish you have a Safe and Happy Journey,
hoping to see you lovely and safe again soon.
May your journey be free of risk.
Enjoy every bit of travels.
Happy Journey!
My love will reach you no matter where you go!
May your journey filled with best things.
Hope you have an amazing time and hope you make amazing memories,
I am looking forward to hearing the stories of your superb journey.
Happy Journey!
I am very glad that you are finally going on a journey.
May Your journey be smooth and fantastic.
Happy Journey.Have fun and come back soon!
because I miss your beautiful,smiling face every day.