Happy 1st Birthday Wishes
Here you will find best collection of Happy 1st Birthday Wishes, First Birthday messages sms.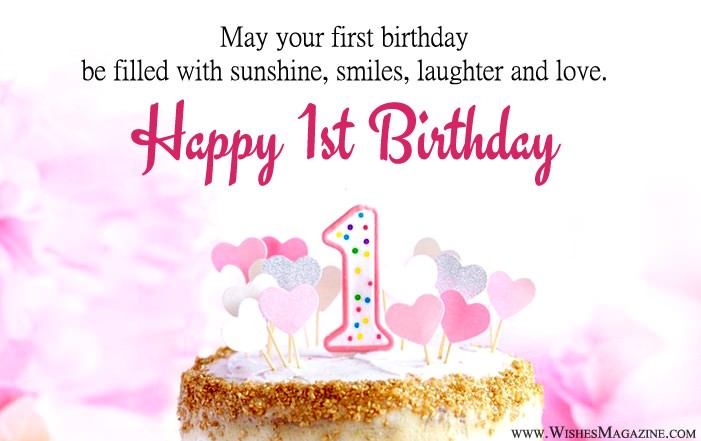 Happy 1st birthday to you!
Wishing you first wonderful birthday of happiness and joy.
May your first birthday
be filled with sunshine,smiles,laughter and love.
You look so cute,
I just want to hold you tight.
Happy first birthday sweet pie!
You are turning one and it's such a special moment.
Hope this is the beginning of your greatest future!
Happy 1st Birthday Dear!
Have a wonderful 1st birthday!
I want to wish you nothing but happiness today.
Read More: Congratulations Wishes For Baby Girl
let's celebrate the birthday,
Today you've turned one year old
and may you be blessed abundantly today,
tomorrow and the days to come.
Happy 1st Birthday!
May Lord Jesus spread lot of happiness
on your first birthday.
Happy 1st Birthday!
Enjoy your 1st birthday,
May God shower his choicest blessings on you.
Happy 1st Birthday Dear!
Happy birthday to the sweetest one-year-old baby!
May god continue to shower your life with abundant blessings.
Today is your 1st birthday,little baby.
I wish you get all the happiness in your life.
may each day journey bring you happiness.
Happy Birthday!