Thank You Messages For Doctors
Here you will find collection of best and sweet thank you messages for doctors, Thank you doctor sms messages,Thank you note for doctor.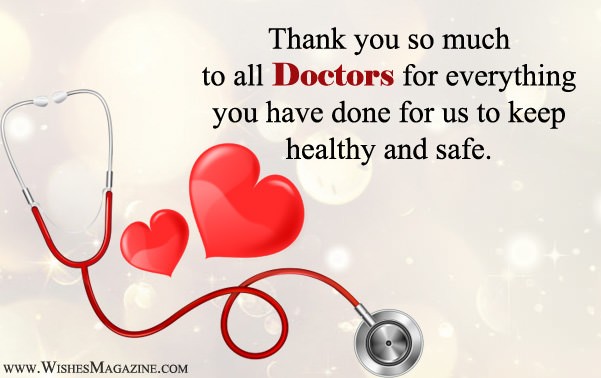 Thank you very much for doing a great job for us.
You are always been successful to keep our spirits up and maintaining good health.
Doctors thank you so much for making me feel happy
and healthy at every stage of my life.
Your presence holds a positive vibe
that is more powerful than your prescribed medicines.
thank you doctor for everything you do.
Because of generous doctors the world be filled with
smiles and laughter instead of pain and sorrow.
Thanks for everything to all doctors.
To me, you're a special gift from God.
Thank you so much for all your contribution and efforts
that you do to keep us well.
Thank you for everything you've done for me
and I'm so happy I've found a doctor like you.
Dear Doctors, Thank you for helping everyone.
You fix the people that need your help.
You are nothing short Of god,
Thank you to all doctor
for putting your life to save others.
Read More: Happy Doctors Day Wishes
Medicine can cure any disease,
but a best doctor's inspirational words
can give the strength to fight from within.
Thank you doctor for doing just that.
Thank you to all doctors,
You are real heroes who saved lives.
Thank you so much to all doctors
for everything you have done for us to keep healthy and safe.
Read More: Thank You Message For Teacher
Dear doctors, your contribution in our life
is nothing short of blessing and a miracle.
Thanks for all your support.