Happy Easter Wishes For Friends
Easter is a joyful spring and religious holiday observed by the Christian community commemorate the resurrection of Jesus. It is a time of reflection and renewal on spring season to rejoice and cheer the great and wonderful Easter with friends, let your friends know how much they mean to you this Easter by sending them warm and heartfelt Easter wishes.
Here in this section we are sharing a collection of Happy Easter Wishes for Friends, New Easter Messages for Friends, Easter Sunday Wishes for Friends, Easter Greeting Card Messages for Friends.
Check More: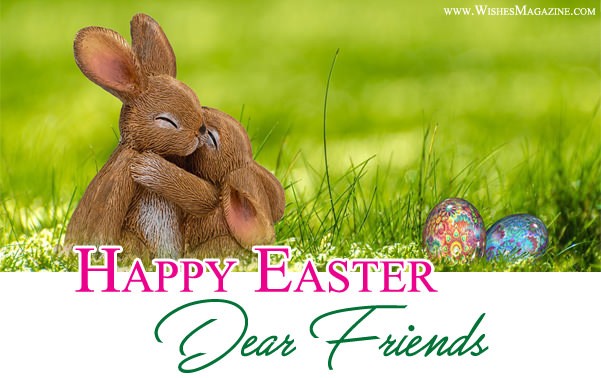 Happy Easter My Friend.
May God bless you and your family.
Happy Easter My Friend!
May you be surrounded with spirituality,
inspiration and devotion!
Happy Easter my dear friend,
Enjoy the beautiful day and appreciation
the price Christ paid for us.
Have a love-filled weekend ahead,
Happy Easter Dear Friend!
I wish this Easter Christ loves you more
and fulfilled your all needs.
Happy Easter my dear.
Happy Easter Sunday My Friend.
May the miracle of Easter brighten your life
with love, happiness, and joy!
Religious Easter Wishes For F
+riend
I wish Jesus Christ bless you on this Easter
and bring love, joy, happiness lifetime.
Happy Easter Dear Friend!
Have a blessed Easter,
I wish this season reminds you of
the tremendous love you have in Christ the king with every ray of light
and opening of beautiful flower.
May God loves you endure forever,
May this Easter bring God's favor
and blessings to remind us.
Happy Easter dear friend!
May Jesus Christ hop into your life
and bless you to find happiness
and to be humble in life. Have a blessed Easter my friend.
Wish you a blessed Easter Dear Friend,
May the light of God shine on your way always
and His wisdom helps you in your way!
Happy Easter to my friend may God bless you
and bring deep appreciation
and a smile this new life for us.
You have a pure heart
that makes everything happy and admirable.
Happy Easter my dear may God bless you forever.
God loves all their children and fulfil their wishes and dreams;
May this Easter will bring many surprises in your life
and gives you more hopes in this life.
Happy Eater !
A happy person is someone who has found God
and blessed because he is given another chance to live a clean life.
Celebrate the day with so much happiness.
Happy Easter!