Latest Mothers Day Wishes And Messages For Friends
Mother is the only one who face many shades of life struggle for safety and happiness of her children. People all over the world celebrate the day with family but you can celebrate or send warm wishes to your friends also, because friends are like family, we spend many times with them, we create memories and moment together, wishing your friend a Happy Mother's Day makes your relationship sweeter.
In section, we are sharing a collection of wishes/messages of Mother's Day to send your friends so that you can make her feel happy or to make mother feel love for her. This will bring a smile to her face and heart and let her know how much you care.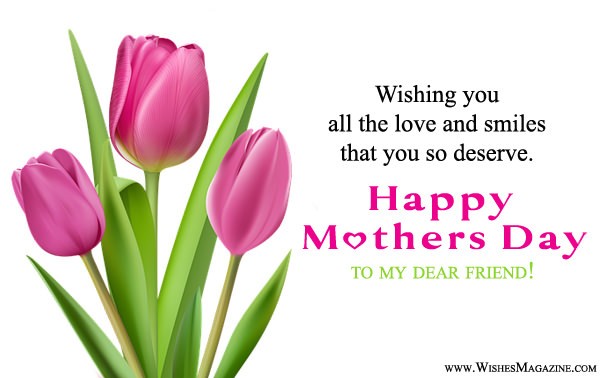 Happy Mothers Day Messages To Friends
You are a wonderful friend and a mother,
I wish you a Mother's Day filled with much joy and happiness.
Happy Mother's Day Dear!
One of the most important things in this world
I have is your friendship,
on this Mother's Day I want to extend my congratulations greetings
and best wishes to you and yours.
Happy Mother's Day Dear Friend!
I admire the dedication and effort you have towards your children,
you are Mother full of compassion, love and fearlessness.
Happy Mother's Day my friend!
You are a woman whose priority is the welfare of their children.
May your Day be filled with so much love and happiness on your day enjoy it.
Happy Mother's Day!
To be a friend I can see your eyes sparkle
with joy when you tell me about your children.
May your day fill with happiness and joyful.
Happy Mother's Day!
Happy Mother's Day to my friend,
You are so thoughtful and caring for all your kids,
I hope you have an awesome day!
You are willing to do anything to your children welfare.
I wish your day be as lovable as you are my dear
and you get more love n your life.
Happy Mother's Day!
Read More : Best Happy Mothers Day Wishes Messages
You are strength to carry on and are something I greatly admire.
Have a happy Mother's Day!
Heartfelt Mother's Day Wishes For Friend
Your friendship is like a rainbow that brings color into my world.
I am blessed to have a friend like you in my life.
I wish you Happy Mother's Day!
Your friendship are loved and appreciated beyond measure.
Happy Mother's Day to my amazing friend!
Wishing you all the love and smiles that you so deserve.
Happy Mother's Day to my dear friend!
You are wonderful friend and a mother
who fill the atmosphere with your love and care.
I wish you have a fantastic Mother's Day!
My life become brighter, you add so much happiness
and comfort in my life my friend,
May you receive the same happiness in your special day.
Happy Mother's Day!
Read More: Happy Mother's Day Wishes Messages For Colleagues & Coworkers
Beauty and brains you're more than that,
You are a great mother, a hero and a loving friend right from the start.
Happy Mothers Day Dear Friend!
Sending warm greetings to you
on Mother's Day my dear friend….
It is truly a delight to see how beautifully
you have been raising your kids.