Advance Happy Birthday Wishes And Messages
Here in this post we share a collection of advance birthday wishes,Advance Happy Birthday messages,Happy Birthday in advance messages for friends and family.
Table of Contents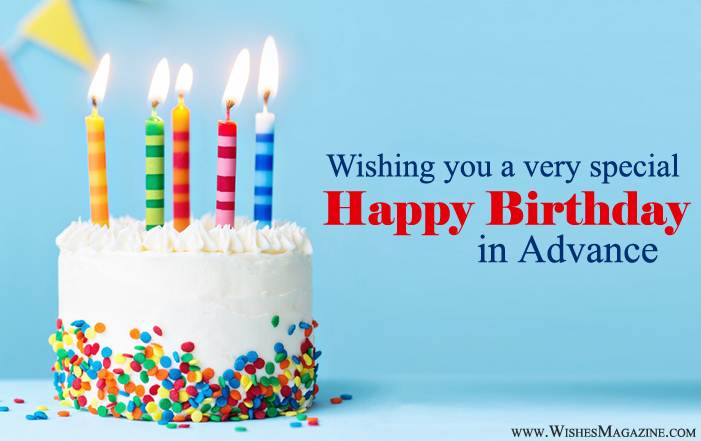 May this Birthday brings
happiness, joy
and blessings in your life.
Happy Birthday In Advance!
Wish you get to have a
lot of Birthday cake this year.
Happy Birthday in Advance!
May you be blessed with
a lot of happiness and joy on this Birthday.
Happy Birthday in Advance!
Dear Friend May your upcoming Birthday
fill your life with joy and happiness.
Advance Happy Birthday !
May your upcoming Birthday
be wonderful and full of happiness.
Dear, Your birthday is near,
May God bless you with lots of happiness and joy.
May your upcoming birthday
be full of superb news and success.
Thank you for always encouragement and support.
You are the best, and I hope that your upcoming birthday
is as unforgettable as you are.
Happy Advance Birthday!
Happy birthday in advance
to a friend who is much
more like family to me.
May you get all the happiness
that you deserve on this birthday.
Wishing you a very special Happy Birthday in Advance
and a wonderful year ahead.
This birthday May your heart be filled with
joy and your life with happiness.
Happy Birthday In Advance Dear!
Warmest wishes for your birthday in advance.
May God bless you!